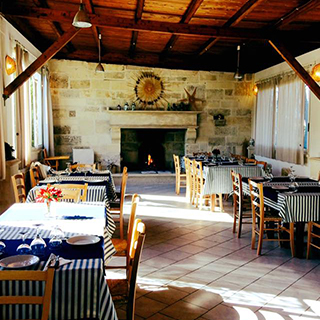 Taste the flavours of lush Salento at Lu Schiau
Nestled in the peaceful Serrano countryside, a small hamlet in Carpignano Salentino, Lecce, is home to "Lu Schiau" a family-run farmhouse and agritourism accommodation. Every day at the "Agriturismo Lu Schiau," delicious traditional dishes emerge from the adjoining restaurant's kitchen. You can taste rustic Italian country dishes with a twist, enhanced by chef Francesca's creative and original touch. After your meal, enjoy delectable sweets made by Giulia. Lu Schiau also offers a small boutique where you can buy local and farmhouse-made products. Salento farm Lu Schiau Farmhouse is located in the heart of the "Greece of Salento", a land rich in history with a tradition of tasty and healthy food.
La Cucina
At "Lu Schiau" we not only offer a wide range of traditional dishes, we tell you their stories, too.
We enjoy creating recipes with herbs that are usually considered 'peasant food,' but that we appreciate as fresh, sustainable, and truly flavourful.
From our kitchen you will taste simple but delicious dishes that feature many wild vegetables, such as the 'paparina', thistles, the 'lapistre' and 'cicoreddhe' (wild chicory). All the vegetables we use in our recipes are organic and produced in our own gardens. Our pastas are always homemade: sagne, ciciari e tria, and orecchiette are the stars of our first courses. Your food is accompanied by good, home-baked bread baked in our woodfire oven. The olive oil we serve and the wine you drink are all products of our farm, as are the dried herbs that flavour our dishes, the fruit jams for your morning toast and the liqueurs you savour after a meal. It doesn't end at the table, either—we even produce our own natural cosmetic products, such as oils, soaps, and creams.
We ensure that all electricity and hot water used on our property is self-produced by photovoltaic panels and solar panels, guaranteeing that your stay with us is entirely sustainable.